Hi Everyone!!
As you may, or may not, know we began a new Etsy Shoppe.  The items in this shoppe are items that we felt really did not fit in with the vision we have for The Shoppe at Flatwoods hence the birth of A Vintage Season.
I appreciate so much those of you who have already visited the shoppe, looked around and/or made purchases.
I have created a button for the new shoppe and I am hoping that you will want to add it to your blogs sidebar as a bit of advertisement.  I decided that a deed like that could not go unrewarded so I determined that I would create a blog giveaway and here is how it will work:
1.  Grab the code for the button (it is in the little box below the button image - thanks Gail for your help).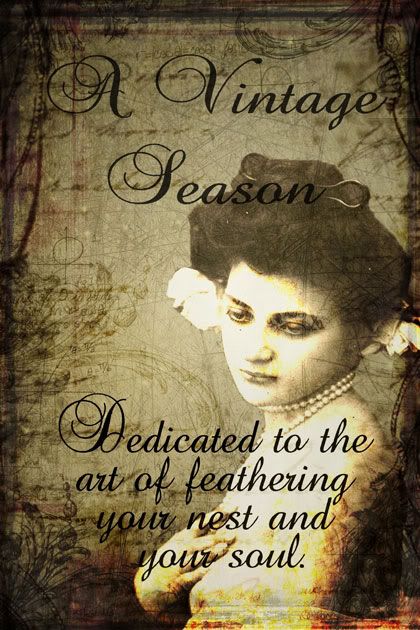 2.  Place the button on the sidebar of your blog.
3.  Comment on this post with a link back to your blog so I can see how pretty the button looks.  :)
4.  On Monday, November 22nd, the number cruncher will pick two random numbers between 1 and however many entries we receive.
5.  I will count down the entries to those numbers and those will be the two winners.  Please remember to only comment once unless you are posting the button on multiple blogs.
6.  The first person chosen will receive:
A medium Santos head on a stand from the shoppe.
7.  The second winner will receive..........
A Infant of Prague from the shoppe.
So if you are interested in either of these prizes please grab the button code, place the button on your blog or blogs sidebar(s) and then come back and leave a comment here with a link to your blog.
On the 22nd of November the winners will be announced.  Good luck and thanks for being a part of our lives.
xo,
Lesley